The Micro Influencer Blueprint: A Practical Guide To Partnering With Top Brands E-Book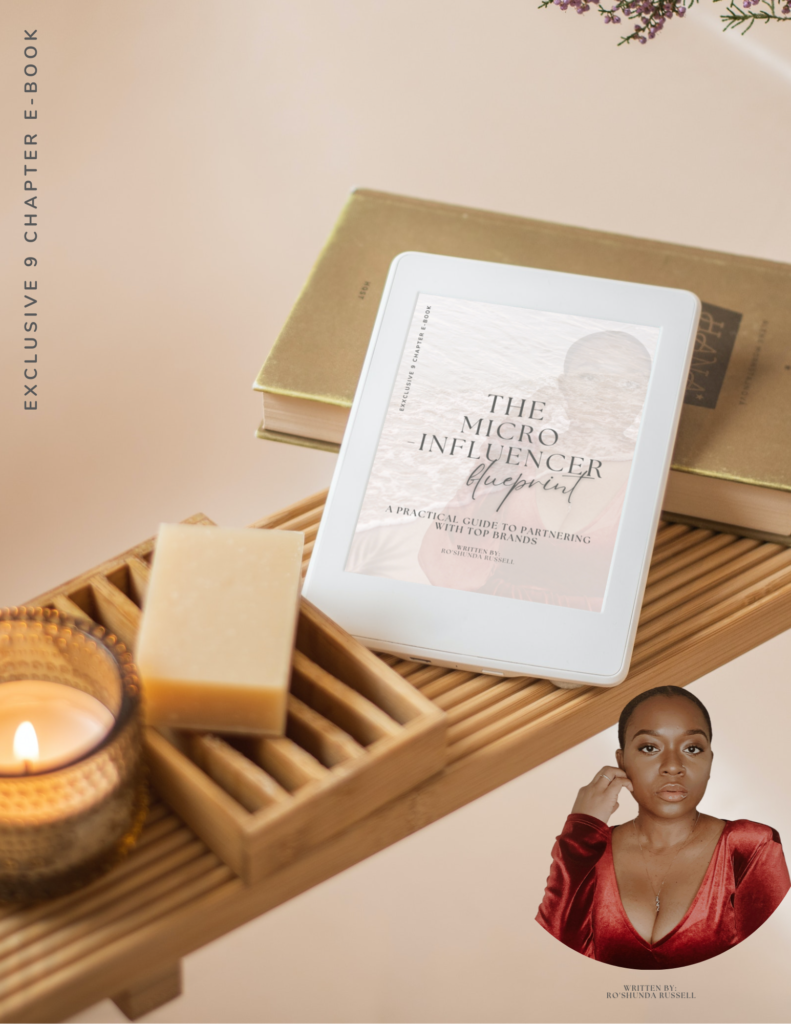 The Micro Influencer Blueprint: A Practical Guide To Partnering With Top Brands
28 Page E-Book | Instant Downloadable
Maximize your micro influencer status with our step-by-step blueprint to working with top brands.
Our comprehensive guide includes 9 easy to digest chapters of information that covers everything from creating a blog to crafting the perfect pitch email, to finding the correct brand contacts names and phone numbers to pitch.
This e-book has been curated by Ro'Shunda Russell, lifestyle content creator and business strategist with over 10 years of pitching brands and securing paid partnerships under her belt.
Ro'Shunda has secured partnerships with Lipton, Shea Moisture, Shark Ninja, Mazda, numerous Travel Tourism Bureaus, Hilton & Nintendo to name a few. Now, she is pouring that knowledge into you.
The Micro Influencer Blueprint: A Practical Guide To Working With Top Brands is a must-have resource for content creators with less than 10,000 followers.
The 9 Chapters Include:
Chapter 1: Introduction to Micro-Influencer Marketing
Definition of Micro-Influencer
Importance of Micro-Influencer in the Marketing Industry
Benefits of Working with Top Brands as a Micro-Influencer
Chapter 2: Creating a Blog for Your Influencer Journey
Choosing the Right Platform for Your Blog
Tips for Designing an Eye-Catching Blog
Writing Engaging Content for Your Blog
Chapter 3: Capturing a Brand's Attention
Understanding Your Target Audience
Identifying Brands That Align with Your Niche
Engaging with Brands on Social Media
Chapter 4: Finding Brand Contact Information
Utilizing Company Websites
Searching for Contact Information
Using Professional Networking
Chapter 5: Pitching to Brands via Email
Crafting a Compelling Subject Line
Writing an Engaging Email to Pitch to a Brand
Including Key Information in Your Email Pitch
Chapter 6: Creating a Media Kit That Wows
What is a Media Kit
Importance of a Media Kit in Influencer Marketing
Elements of a Strong Media Kit
Chapter 7: How to Receive Free Gifts from Brands
Understanding the Benefits of Product Sampling
Identifying Brands That Offer Product Sampling Opportunities
Crafting a Pitch Email for Product Sampling
Chapter 8: Paid Opportunities with Brands
Understanding Sponsored Content and Affiliate Marketing
Identifying Brands That Offer Paid Collaboration Opportunities
Crafting a Pitch Email for Paid Collaboration
Chapter 9: Final Thoughts