Indoor waterparks are the perfect destination for families and individuals looking for a fun and exciting day out, especially during the cold winter months. However, as with any new experience, there are often questions that need to be answered before visiting. In this guide, I will answer the most frequently asked questions about indoor waterparks so you can make the most of your visit.
What Should I Wear to an Indoor Waterpark?
The first thing to consider when packing for a day at an indoor waterpark is what to wear. It's recommended that visitors wear a swimsuit, water shoes, and a cover-up or swim shorts and a swim t-shirt. It's also a good idea to bring a nice beach towel and a change of clothes inside a mesh beach bag for after your swim.
Is There an Age Limit for Indoor Waterparks?
Most indoor waterparks have a minimum height requirement for certain rides to ensure the safety of guests. Typically, children must be at least 42 inches tall to ride water slides and other attractions. Some indoor waterparks may also have a separate area designated for younger children with smaller, gentler rides that are suitable for toddlers and preschoolers. Additionally, many indoor waterparks require adult supervision for children under a certain age, which is usually around 14 years old.
It's important to check the specific rules and regulations of the indoor waterpark you plan to visit before making any plans to ensure that everyone in your group can safely enjoy the attractions
Can I Bring My Own Food and Drinks into the Waterpark?
Many indoor waterparks have food and drink concessions available, but some may allow visitors to bring their own food and drink into the park.
Here are a few food options and containers to keep in mind if your waterpark allows food:
Sandwiches and Wraps: These are easy to prepare and can be customized to suit a variety of dietary preferences. Use airtight containers to keep them fresh.
Fresh Fruit: Apples, bananas, grapes, and oranges are great choices for a healthy and refreshing snack. Use a reusable container to store them.
Trail Mix: This protein-packed snack is perfect for a day at the water park. Use a sealed plastic bag or reusable container to keep it fresh.
Cheese and Crackers: These are a great option for a mid-day snack. Use a reusable container or small cooler to keep the cheese cool.
Reusable Containers: Investing in reusable containers can help reduce waste and keep food fresh. Consider purchasing containers with compartments for a complete meal.
Insulated Lunch Bags: These can keep food and drinks cool and are easy to carry around the water park. Look for options with adjustable straps and multiple pockets for storage.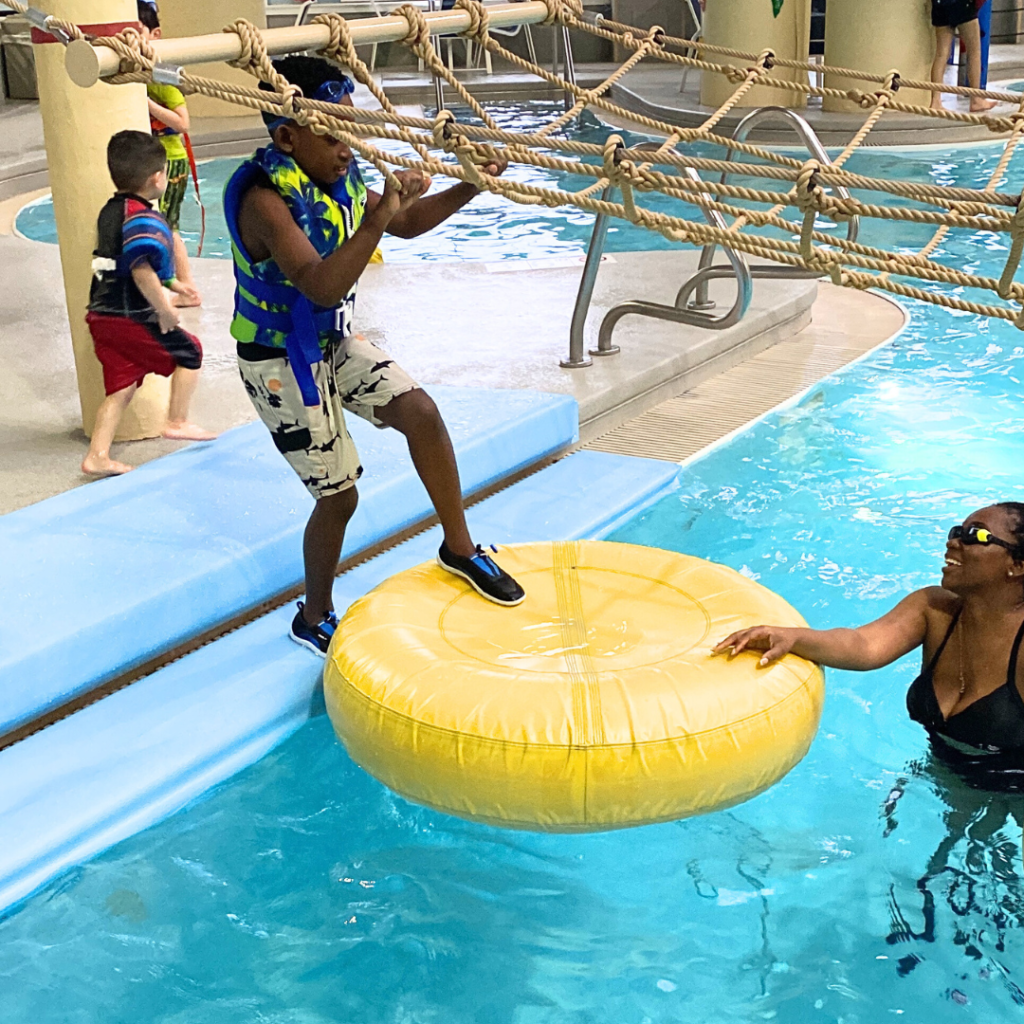 Are There Lifeguards on Duty at Indoor Waterparks?
Yes, indoor waterparks always have trained lifeguards on duty to ensure the safety of visitors.
If you do not see lifeguards on duty at an indoor water park, it's important to take action to ensure your safety and the safety of those around you.
The first step is to alert the front desk or any other staff members at the water park immediately. They will be able to contact the lifeguards and notify them of the situation. In the meantime, do not enter the water and make sure any children in your group stay away from the pool or other water attractions.
It's also a good idea to familiarize yourself with the location of any safety equipment, such as lifebuoys, in case of an emergency. Remember, it's always better to be safe than sorry, so don't hesitate to speak up if you notice any potential safety concerns at the indoor water park.
What Kind of Attractions and Rides Are Available at Indoor Waterparks?
Indoor waterparks typically offer a variety of attractions and rides for visitors of all ages. This can include water slides, lazy rivers, wave pools, and splash areas for young children. Some waterparks may also have additional attractions such as rock climbing walls, arcade games, or mini-golf courses.
Are There Any Height or Weight Restrictions for the Rides?
Height and weight restrictions are common for water park rides to ensure the safety of riders. The exact restrictions can vary depending on the ride and the water park, but here are some general guidelines that are commonly followed:
Height restrictions: Most water park rides have a minimum height requirement to ensure riders can safely enjoy the ride. The minimum height for children's rides is typically around 36-42 inches, while the minimum height for more thrilling rides can range from 48-54 inches or higher.
Weight restrictions: Some water park rides may also have weight restrictions in addition to height requirements. This is to ensure that the ride can support the weight of the rider and prevent any potential accidents or injuries. The weight restrictions can vary depending on the ride, but typically range from around 250-300 pounds.
It's important to note that these restrictions are in place for the safety of riders, and should be followed at all times. Disregarding the height or weight restrictions can put both the rider and other guests at risk, and may result in being denied access to the ride.
Are Locker Rentals Available at Indoor Waterparks?
Most indoor waterparks offer locker rentals for visitors to store their belongings while they enjoy the park. It's recommended to bring your own lock, but locks can usually be rented at the waterpark as well.
Locker rentals are a common amenity offered at indoor waterparks, allowing guests to safely store their belongings while they enjoy the rides and attractions. Here's what you need to know about locker rentals at indoor waterparks:
Cost: Locker rental fees can vary depending on the water park and the size of the locker. Prices typically range from a few dollars to around $20 per day.
Location: Lockers are usually located near the entrance or in a designated locker area within the water park. Look for signs or ask a staff member if you're unsure of where to find the lockers.
Payment: Most water parks accept cash or credit card payments for locker rentals. Some parks may also require a deposit, which is usually refunded when you return the key to the locker.
Size: Lockers can come in different sizes to accommodate various belongings, from small items like phones and wallets to larger items like bags and clothing. Be sure to choose the appropriate size for your needs.
Key or code: Locker rentals usually come with a key or code that allows you to access the locker throughout the day. Be sure to keep this key or code safe, as losing it may result in additional fees.
Are There Any Quiet Areas for Relaxation at Indoor Waterparks?
Yes, many indoor waterparks have quiet areas for visitors who want to take a break from the excitement and noise of the rides. These areas may include hot tubs, sauna rooms, or lounges where visitors can relax and unwind.
Here are some things you can bring with you to the quiet areas inside indoor waterparks:
Reading material: Whether it's a book, magazine, or newspaper, reading can be a great way to unwind and escape the noise and crowds of the waterpark.
Headphones: If you prefer to listen to music or podcasts, bringing a pair of headphones can help block out any unwanted noise and create a more peaceful atmosphere.
Snacks: While many waterparks have food and drink options available for purchase, bringing your own snacks can be a convenient way to keep your hunger at bay without having to leave the quiet area.
Water bottle: Staying hydrated is important, especially in a waterpark environment. Bringing a reusable water bottle can save you money and reduce waste while ensuring you have access to water whenever you need it.
Towel or blanket: Depending on the quiet area's amenities, you may want to bring a towel or blanket to sit or lay on while you relax.
Remember to check with the waterpark's rules and regulations before bringing any outside food or drink into the park, as some may have restrictions or policies in place. By bringing a few essentials with you, you can create a peaceful and rejuvenating experience in the midst of all the waterpark excitement.
What Is the Best Time of Day to Visit an Indoor Waterpark?
The best time of day to visit an indoor waterpark can vary depending on the park and the day of the week. Weekdays are typically less crowded than weekends, and visiting during non-peak hours can also help to avoid long lines and wait times.
Do Indoor Waterparks Require a Reservation or Advance Booking?
Some indoor waterparks may require a reservation or advance booking, especially during peak season or on holidays. It's recommended to check the waterpark's policies and book in advance to ensure availability.
In Conclusion
Visiting an indoor waterpark can be a fun and exciting experience for all ages. By following the tips and information in this guide, you can make the most of your visit and ensure a safe and enjoyable time. Remember to always check with the waterpark before visiting to learn about any new policies, procedures, or attractions. With proper planning and preparation, you can enjoy a day of thrilling water rides, exciting activities, and much more. So what are you waiting for? Pack your bags, grab your swimsuit, and get ready for a splashing good time at an indoor waterpark near you!