Traveling can be stressful, and the last thing you want to worry about is your makeup getting damaged or lost. But with the right planning and packing, you can bring all your favorite products with you on your trip. In this article, we'll go over some tips for packing makeup when traveling, must-have items to bring with you, and how to keep your makeup looking fresh during your journey.
Tips for Packing Makeup When Traveling
Plan ahead. Before you start packing, think about where you're going and what activities you'll be doing. This will help you decide which products to bring and what kind of packaging you'll need.
Use a travel makeup bag. A compact, organized bag will help you keep track of all your products and prevent spills.
Pack light. Only bring what you need. You can always buy more makeup products at your destination if necessary.
Use multi-purpose products. Look for products that can be used for more than one purpose, such as a tinted moisturizer that also provides sun protection.
Use sample sizes. If you don't want to bring full-sized products, look for travel-sized versions or samples.
Wrap fragile items. Use bubble wrap or tissue paper to protect glass bottles or fragile compacts.
Put cotton pads or balls between the lids and the product to prevent them from opening in transit.
How to Pack Liquid Makeup Products to Prevent Spillage
Liquid makeup products such as foundation, concealer, and liquid lipstick can be tricky to pack. Here's how to do it:
Use a ziplock bag. Put all your liquid products in a ziplock bag to prevent them from spilling in your luggage.
Put a piece of plastic wrap over the bottle opening before screwing the lid back on. This will create an additional barrier to prevent spills.
Use a makeup bag with compartments. Look for a makeup bag with compartments to keep your liquid products separate from your powders.
Use travel-sized products. If possible, bring travel-sized versions of your liquid products to save space and reduce the risk of spills.
Must-Have Makeup Items to Pack for a Trip
Adjusting Your Makeup Routine When Traveling to a Different Climate
Different climates can affect your skin and how your makeup looks. Here are some tips for adjusting your routine:
Common Mistakes People Make When Traveling with Makeup
Bringing too much makeup. Only bring what you need and use regularly. You don't want to add extra weight to your luggage or risk losing valuable products.
Forgetting to check TSA regulations. Make sure you're following the rules for carrying liquids on planes. In the United States, liquids must be in containers of 3.4 ounces or less and fit in a quart-sized bag.
Not protecting products from damage. Use protective packaging or bubble wrap to prevent your products from breaking or leaking in transit.
Not organizing makeup properly. Keep your products organized in a makeup bag or compartmentalized case to make packing and unpacking easier.
Not adjusting your routine for the climate. Different climates can affect your skin and how your makeup looks, so make sure to adjust your routine accordingly.
How to Pack Your Makeup Brushes and Tools When Traveling
Packing your makeup brushes and tools can be a bit tricky. Here are some tips:
Use a brush roll or case. This will help keep your brushes organized and protected.
Use a brush guard or sleeve. These are small plastic covers that fit over the bristles of your brushes, helping to protect them from damage.
Use a small bag or case for your tools. Keep your tweezers, eyelash curler, and other tools together in a separate bag or case.
Keep your brushes and tools separate from your makeup products. This will prevent any accidental spills or contamination.
How to Keep Your Makeup Organized When Traveling
Keeping your makeup organized while traveling is key to making your trip stress-free. Here are some tips:
Use a makeup bag with compartments. Look for a makeup bag with compartments to keep your products organized and prevent spills.
Use packing cubes. These are small fabric containers that help keep your luggage organized. Use one for your makeup bag to keep it separate from your clothes.
Keep your makeup bag in your carry-on. This way, you can keep an eye on it and make sure it doesn't get lost or damaged in transit.
TSA Regulations to Keep in Mind When Packing Makeup for Travel
When packing makeup for a flight, it's important to follow TSA regulations. Here are the most important rules to keep in mind: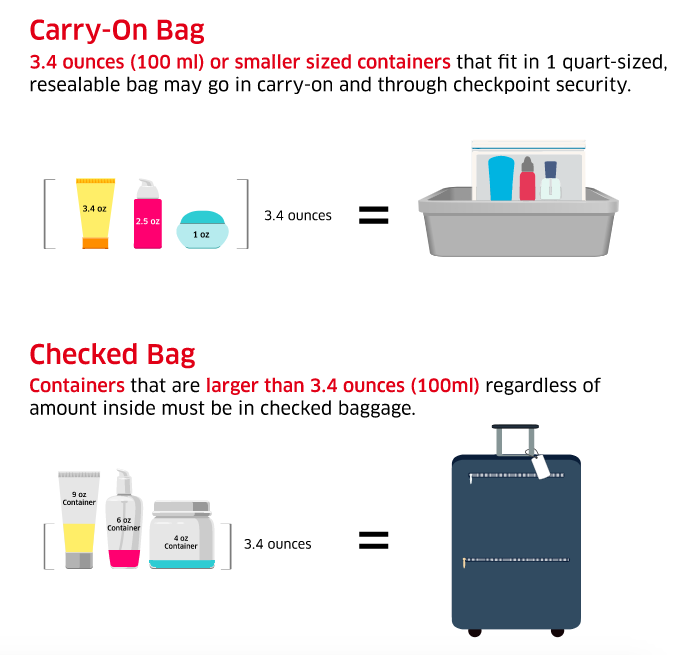 Liquids must be in containers of 3.4 ounces (100 milliliters) or less.
All liquids must be placed in a quart-sized bag.
Each passenger is allowed one quart-sized bag of liquids.
The quart-sized bag must be placed in a carry-on bag.
Medically necessary liquids, such as prescription medications and baby formula, are exempt from the 3.4-ounce rule.
Ways to Save Space When Packing Makeup Travel
Packing makeup can take up a lot of space in your luggage. Here are some ways to save space:
Use multi-purpose products. Look for products that can be used for more than one purpose, such as a lipstick that can also be used as blush.
Use samples or travel-sized products. These take up less space than full-sized products.
Use a compact palette. Look for a palette that contains multiple products, such as eyeshadow, blush, and bronzer.
Bring a makeup remover that can also be used as a cleanser. This will save you from having to pack both a makeup remover and a cleanser.
How to Keep Your Makeup Looking Fresh and Flawless During a Long Flight or Car Ride
Long flights or car rides can take a toll on your makeup. Here are some tips to help you keep your makeup looking fresh and flawless during your travels:
Start with a clean face: Before applying any makeup, make sure your face is clean and moisturized. This will help your makeup go on smoothly and last longer.
Use a primer: A primer helps to create a smooth, even base for your makeup and can also help it to last longer.
Choose long-wearing products: Look for makeup products that are designed to last for a long time. This includes long-wear foundations, waterproof mascaras, and lip stains.
Pack a setting spray: A setting spray can help to keep your makeup in place for hours. Spritz it on your face after you've finished your makeup application.
Touch up as needed: Bring a small makeup bag with you on your travels so that you can touch up your makeup as needed. This might include blotting papers to absorb excess oil, a compact powder to mattify your skin, or a lipstick to refresh your color.
By following these tips, you can ensure that traveling with makeup is a breeze.